Arcana Tiles launches its most exotic ceramic wood
Oriental Wood is the selective collection of porcelain wood launched by Arcana Cerámica formed by exquisite designs inspired by the art of hand-worked wood. This brand-new range is full of decorative personality where natural materials become the main protagonist.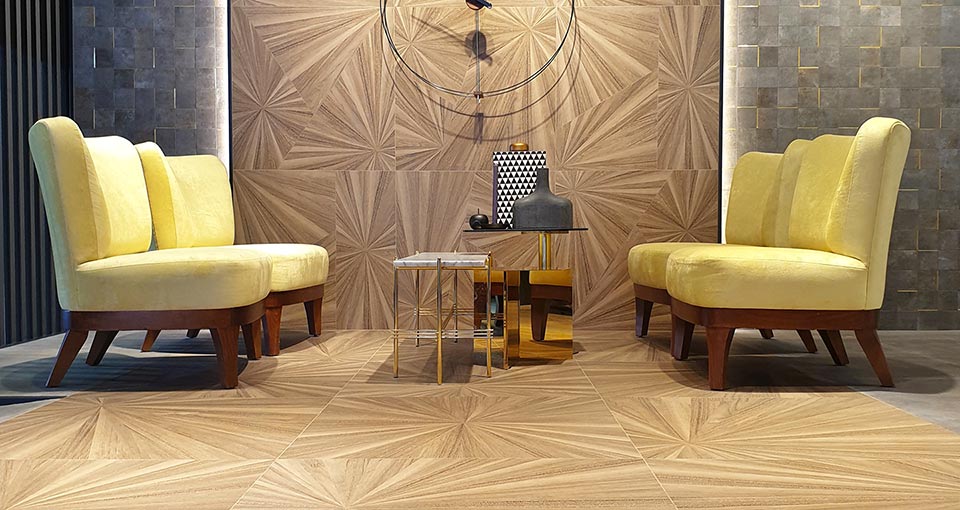 Arcana Cerámica takes advantage of Cersaie 2019 event to present 3 new designs of great realism that give a new twist to the aesthetics of porcelain wood. Firstly, we find the Komi porcelain tile design, made in the 80x80 cm rectified format and available in Crema (Cream) and Miel (Honey) colours. It is a porcelain wood whose radial design generates very powerful visual effects giving importance to the surface and character within the design space.
The Nepli-R porcelain tile is a decorated piece with undeniable current design tendencies. Its fragmented design and its rectified 80x80 cm format create continuous surfaces full of creative identity. And finally, the Nalati-R model, also available in Cream and Honey. These are thin wooden slats designed in 10x39,3 cm format that provide a cozy and at the same time, urban touch to the ambience. Also, the series has anti-slip technical characteristics so that it can be used in contract projects and applications.